We've tried several methods for tracking family expenses.  I'm on the hunt for the best way to do it.  With a family and two people sharing the spending it can be difficult to stay on the same page financially.
Here are my top criteria for a good expense tracker.
Ease of Use – Tracking expenses/spending needs to be easy or we won't do it.  It needs to become a habit to be effective.
Flexibility – We need to be able to add categories or make changes without a lot of trouble.
Multi-User – My wife and I need to see what each other is doing and be able to share the results in real-time.
Reporting – Throughout the month and at the end we need to see how we're doing.  We need to be able to correlate/combine our expenses with the budget.
We've used the spreadsheet method in the past.  I like spreadsheets for crunching/compiling data but they don't work effectively for this purpose.  My biggest gripe with this method is that we can't enter the expenses on-the-go.  I'm more of an app guy too so I generally avoid spreadsheets unless they're the only option for a task.
A Possible Solution
After some app store searches and Googling I found the Spending Tracker application.  It has great reviews on iTunes and looks like it will meet our minimum requirements.  We're iPhone users at the moment but the application is available on Android and Windows Phone as well.  I did upgrade to the Pro version so that my wife and I can synchronize our tracking across our phones.
Spending Tracker Setup
Spending Tracker is easy to set up.  It provides default categories which you can delete or modify.  You'll likely add new categories to fit your budget.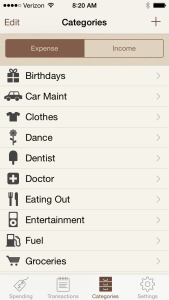 Adding a new transaction is easy.  Go to the Transactions tab and choose expense or income.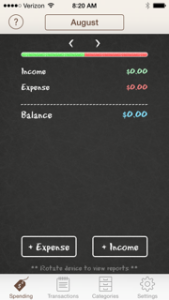 You can export your activity to PDF or CSV.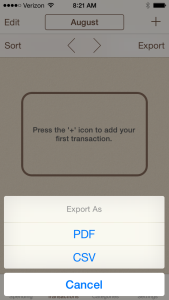 You've got several options in the Settings tab.  If you've got multiple people entering transactions then you can upgrade to Pro for $2.99 (at the time of this post) and synchronize.  Syncing transactions requires a Dropbox account which is free, I believe, with the basic (2 GB) plan.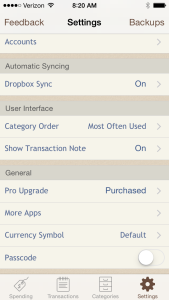 Other Solutions That I'm Going to Try
There are a number of options for personal finance management which include more than expense tracking and basic budgeting.
YNAB – I'm planning to give YNAB (You Need A Budget) a try as well and will report on that one.  They currently offer a free 34 day trial.  It's a $60 one time charge to purchase.
Mint – I already use Mint to get an overall view of our finances.  I am able to see most of our transactions in Mint given that we do use credit/debit cards for purchases.  I'm not impressed with their mobile app but may give it another shot.  My plan is to use Mint in conjunction with the Spending Tracker app over the next month.  I believe that Mint is totally free but they do show a lot of ads on their site.
EveryDollar – This is Dave Ramsey's solution for PF management.  I'm a big fan of Dave and will give this one a shot as well over the next few months.  It's tied into Dave's seven baby steps, his proven plan to financial freedom.  EveryDollar Plus is $99 per year and they do have the free option which doesn't provide account linking.  This sounds a tad pricey (to me) for the Plus but I don't mind paying for quality if that's the case.
We may find that it's simply not feasible to track every spend or expense as we go.  I like seeing where we are in real-time or as close as we can get to it.  I also like logging each transaction as it comes out so that it's categorized appropriately.
I'll report back on how it's going each month for the remainder of the year and hope to provide some sort of comparison between the solutions around the end of the year.
Are you using any of the aforementioned solutions or something else?  Please share your thoughts!
**Note – If you don't see a place to enter comments then click here.
---