We recently returned from our annual Outer Banks, NC family beach vacation.  The house that we rented provided beach chairs which was a nice surprise.  We were so impressed with the Tommy Bahama chairs that we decided to buy a couple once returning home.  And since I'm excited about the purchase then I wanted to share it with you!  I'm not going to recommend anything that we're not using and I probably won't post about a product unless we're at least a little fanatical about it.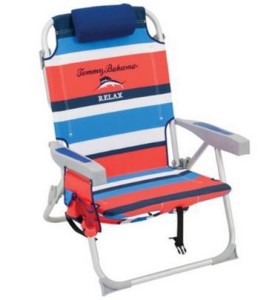 The nicest feature of the chair is that it has straps so that you can carry it like a backpack.  This is a big deal when you're carrying bags, coolers, toys, umbrellas, and other beach items for a family.  Another 'cool' feature is that there's a small cooler on the back.  It's large enough to hold a couple of bottles of water and an ice pack.  The chair folds 5 different ways including flat for an afternoon nap.  It's rust-proof as well so no worries if you want to sit a little closer to the water.  The chair is surprisingly light and folds easily.
It can be hard to find a comfortable beach chair but we never had a problem with these.  The chair has adequate padding including a small pillow or headrest that you can remove.  The cup holder and cell phone/gadget holder are a nice touch.  In additional to the cooler pocket on the back of the chair there is a large pocket on the back with enough space to hold a decent size book and other items needed for a day at the beach.
A nice beach chair can make a difference on those long lazy days at the ocean.   If you need a quality chair for the beach or really any outdoor occasion then you won't be disappointed with the Tommy Bahama backpack beach chair (affiliate link).  It is available in several different colors and patterns.
Please leave a comment and thanks for reading!
**Note – If you don't see a place to enter comments then click here.
---